What is the Ultimate Dining Card?
The Ultimate Dining Card from Buckhead Life Restaurant Group is a personal dining card, gift and passport to VIP treatment in Atlanta's acclaimed restaurants. Perfect for any occasion, personal or business, including anniversaries, birthdays, holidays, weddings, thank you gifts, employee recognition, sales incentives and referrals. The Ultimate Dining Card is sure to make an impression. The card is valid at all award-winning Buckhead Life restaurants. It never expires, is rechargeable with 10% added value for reloads under $1500 and 15% added value for reloads over $1000, and is versatile as a gift, personal dining card or as part of ongoing retention and reward programs for your business.
* The Ultimate Card is not valid for gratuity or taxes.
To purchase your Ultimate Dining Card visit any Buckhead Life restaurant location, call 404.237.2060 or logon to this website.
Atlanta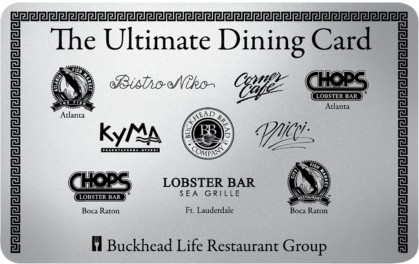 South Florida